Thank you to all who participated in the summer reading program this year! This is the first year we were able to register and log reading online, and we appreciate everyone's willingness to try things a little differently.
Here are some fun statistics we were able to pull together:
Top Readers
These adventurous readers topped the charts in the logs:
PreReaders: Chelsea R. (869 minutes)
Children: Garrett B. (1,440 minutes)
Accelerated: Molly T. (2,640 minutes)
Teens: Annabelle H. (14 books)
Adults: Stephanie B. (8 books)
Popular Books
Below are some titles that were popular among participants!
PreReaders
Dr Seuss Books
Sophie's Masterpiece
Goodnight Little Blue Truck
Don't Let The Pigeon Stay Up Late
Children
Magic Tree House
Wings Of Fire
Babysitters Club
Captain Awesome
Accelerated
The Green Ember
Land of Stories
The Hobbit
Harry Potter
Teens
Artemis Fowl
The Power of Six
Code Talker
Adults
A Very Punchable Face
Truly Madly Guilty
How to Be An Antiracist
Logo Design Contest
Many thanks to all who participated in the logo design contest. This year's winner is Eleonore Baert. Expect to see her artwork on Library promotions over the next year. Thank you to all who participated!
Eleonore Baert, 3rd grade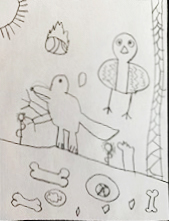 Magnus Redsicker, 2nd grade
Eve Barnard-Blitz, 4th grade